Julie is an Orthoptist (an allied eye health professional, involved in vision assessment and other investigative procedures for disorders of the eye or visual system).
Orthoptics is an allied health speciality, with Orthoptists undergoing university-based studies, formerly as Bachelor of Orthoptics and now as a Masters-level qualification for entry into the industry. Orthoptic graduates are registered with The Australian Orthoptic Board. The national peak professional body for Orthoptists is Orthoptics Australia.
Julie studied Orthoptics at La Trobe University in Melbourne in 1984-86 and has since undertaken further study in a Bachelor of Science (Biochemistry/Microbiology), Postgraduate Diploma in Health Research Methods and Health Promotion, plus a Master of Public Health (Health Promotion) at Curtin University, Western Australia.
Here's a word from Julie: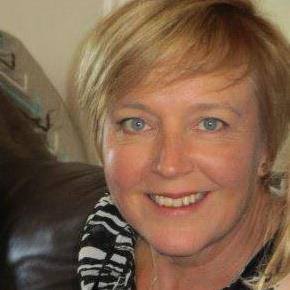 Hello Everyone!
I am thrilled to be continuing my satisfying work as an Orthoptist in the area of Low Vision for the Geelong and surrounding regions. Southern Low Vision was established in 2015, based on a similar service I provided in my home town of Melbourne, in the mid-1990s. I have worked in low vision for over 25 years, in various agencies across Australia, as well as within the private rehabilitation or eye clinic settings.
I combine my private low vision work with teamwork alongside local Ophthalmologists (eye doctors) at University Hospital Geelong. In my spare time I enjoy walks with the dog and family, or painting.
I also consult to workplaces in the related topic of visual ergonomics and the broader topic of public health (which takes into account the bigger picture of health, being determined by factors such as social situation, culture and general wellbeing). I am a casual academic tutor at Deakin University, Geelong, in Indigenous and general health issues.
Southern Low Vision provides low vision rehabilitation for reading and distance when an eye condition makes it hard to see how.
Focussing on Geelong, Surf Coast, Colac and Inner Melbourne!
We can help. Get in touch.